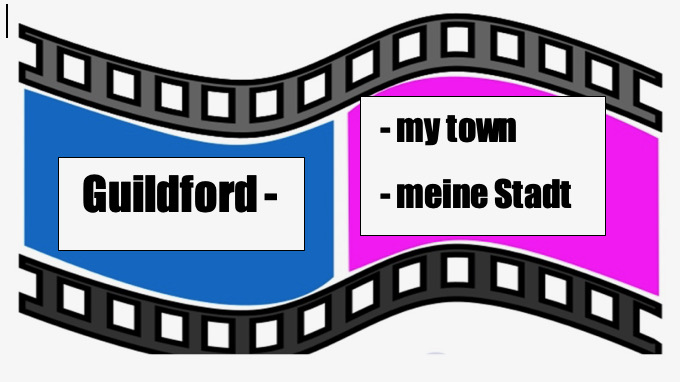 Make a 2-minute film - win a prize!
Make a short video about your Guildford – in English or in German, between 90 seconds and 2 minutes. You can show any aspect of life in the Town and Borough of Guildford. Funny or serious. Perhaps... your favourite part of Guildford or ... a great aspect of Guildford life or ... the places you like or ... the things to show a Freiburg person your age....
Make a film about it, and we'll share it with Freiburg and give prizes for the best ones in each category.
Films can be made by individuals or groups of up to 3.
Categories for entries

In English: "Guildford – my town"

In German: "Guildford – meine Stadt"

a) Primary age students in Years 5 & 6

d) Secondary Students in Years 7 to 11

b) Secondary Students in Years 7 to 11

e) Students aged 16+

c) Students aged 16+
(To see some examples, you could look at films made by Guildford Town Guides: there's one, called "Twinning with Steve" on GTA YouTube and more on Guildford Town Guides Facebook – these are just ideas, not models!)
Closing date Wednesday 10 November 2021 - send your film and your completed entry form (see links at 12.a below) to us by then.
Prizes of Waterstones gift vouchers will be awarded to winners in each of the five categories above.
Judges include:

the Mayor of Guildford, Cllr Marsha Moseley;
Nick Bale, Leader of Guildford Town Guides; and
Professor Phil Powrie, Professor of Cinema Studies, University of Surrey.

Winners will be announced and prizes presented at the GTA Christmas Market in the Guildhall, High Street, Guildford on Sunday 28 November 2021.
Winning entries will be exhibited on this website and shared with our partners in Freiburg.
Please read and carefully consider the following rules, terms and conditions before you submit your short film and entry form.



Rules, terms and conditions
Entry is open to all primary and secondary school students in Years 5 and above in any school in the Borough of Guildford.
Films must be between 90 seconds and 2 minutes in length.
Films must be maximum 2GB in size.
Films must use file type .mov or .mp4 . (If you really want to use a different file type, email us at

This email address is being protected from spambots. You need JavaScript enabled to view it.

to discuss it.)
Films may be in English or German.
Films may be created by 1, 2 or 3 students. A group of 2 or 3 students should choose one of them to be the Team Leader.
Films must be entered for one of the categories listed above under "Categories for entries": you will need to put the category on your entry form. If a film is created by more than one person, it must be entered for the appropriate category for the oldest member of the group.
Some assistance from parents/teachers is acceptable, particularly for younger students, but the creative vision for the film must be the students' alone and the bulk of the work must be done by the students.
Keep it simple and avoid using any song or other music that is subject to copyright. If you do choose to include any copyrighted content, you must be able to provide written permission for its use.
Make sure that you have the consent of any person who contributes to the film eg if you interview someone, you must be able to provide a copy of their written permission for the use of their contribution, and if that person is under 16, from their parent or guardian too. Here is a template consent form. If you are under 16, we will be asking your own parents or guardian for consent in respect of your own contribution.
Films must be respectful of other people, their feelings and rights, and must avoid political comment.
To submit your entry to the competition, you/the Team Leader must, by midnight on Wednesday 10 November 2021:

download this entry form, complete it and send it to us at

This email address is being protected from spambots. You need JavaScript enabled to view it.

(the sooner the better!), and
send your film to us, also at

This email address is being protected from spambots. You need JavaScript enabled to view it.

, via WeTransfer. (WeTransfer is free and really easy to use – just in case, here's a link to one of many online tutorials.)

The GTA reserves the right to use entry content (including all or part of any film submitted by an entrant) in any manner we choose, including sharing it with our Freiburg partners. Submission of an entry constitutes consent by the entrant(s) for us to use the content in this way and also to use the name(s) of the entrant(s) for publicity purposes.
Entries remain the property of the relevant right-holders, but submission of an entry to the competition constitutes the grant by the submitter of a royalty-free licence to the GTA to store, upload and display a copy of the film, and to share the film with our Freiburg partners, for ten years.
The GTA takes no responsibility for any failure by an entrant to obtain any necessary authorisations. Entrants warrant that their entries (and any material contained in their entries, including, but not limited to, any music) do not infringe the intellectual property rights or any other rights of any person.
The competition judges' decisions are final and no correspondence or discussion will be entered into regarding either the judging process or any outcomes reached.
All personal information, such as your name, address, telephone number, email address and age, is collected solely for the purpose of administering this competition and shall not be used by the GTA for any other purpose without your consent. By providing this information, you consent to it being used by GTA for the stated purpose. See also the GTA's privacy policy.
ΨΨ If you have any questions, or are having trouble submitting your entry, or need help with sending it, please email us at This email address is being protected from spambots. You need JavaScript enabled to view it. – we'll be happy to help.