When was the twinning set up?
In September 1979 Guildford and Freiburg im Breisgau signed a formal "promise of lasting friendship ... and an undertaking to maintain regular mutual liaison, to exchange our experiences and to support the coming together of our citizens in every sphere". That promise is still warm and active today after more than 40 years.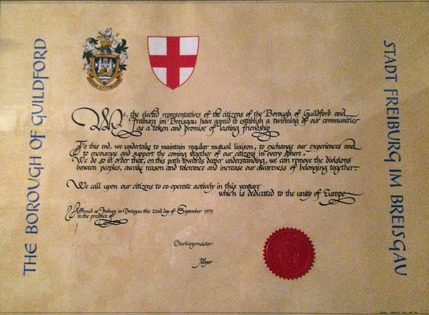 A Deed of Partnership was signed on 22 September 1979 by the then Mayor of Guildford, Cllr. Ronald Burgess, and the then Oberbürgermeister of Freiburg, Dr. Eugen Keidel.

For more than 40 years, groups and individuals, official and unofficial, have visited back and forth, supported and encouraged by the town Councils and voluntary organisations on both sides.
How did it come about?
Essentially, thanks to a remarkable Englishwoman: Dorothy Elchlepp MBE. Dorothy married Paul Elchlepp, a Freiburg pharmacist, in April 1936 at Caxton Hall Register Office (as to which, click here) and went with him to live in Freiburg,where she stayed throughout the Second World War. After the war she devoted herself to building bridges between Germany and Britain. She set up the Anglo-German Club in Freiburg in 1958, and then after a long search chose Guildford as a suitable twin for Freiburg and persuaded the Councils of both towns to establish the twinning.
In 1972 she was awarded the MBE "for services to the British community in Stuttgart" (citation here) and in 1997 the Bundesverdienstkreuz (Federal Order of Merit), First Class, by the German government in recognition of her services to Anglo-German relations.
The Anglo-German Club's website includes this page about Dorothy Elchlepp, featuring photographs of her. Dorothy continued to work hard to support the twinning right up to the time of her death, at the end of 2003, at the age of 90.
Her short illustrated autobiography, "Let's Face it!" (published 2000 by Schillinger Verlag, of Freiburg im Breisgau, ISBN 3-89155-255-6) can be obtained through us: contact us.
Last updated: 25 February 2021